VIN CHIP™ duo supports the conviction of seven men in £1m plant machiery theft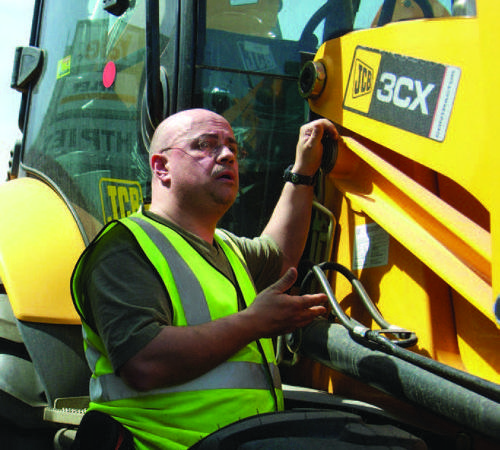 VIN CHIP™ is a theft deterrent and identification system for leisure vehicles. It is installed during manufacture by UK touring caravan and some motorhome manufacturers and is growing as it looks to expand into new markets beyond the leisure industry. There are two recent additions to the team – Vince Wise and Nick Mayell – with the pair bringing decades of experience of dealing with major and organised crime and working with law enforcement to maximise results.
Vince has over 30 years as an ex-Detective Constable Police Officer, specialising in vehicle crime. Nick started his career in the heavy equipment industry (trucks, agriculture, and construction plant machinery) before becoming a construction plant hire company manager where the company was subject to many thefts. He struggled to get help in retrieving his stolen equipment and started recovering it himself, which involved a lot of leg work back then without the benefits and help of social media.
Fast forward to today and Nick and Vince now run the only IMI accredited specialist training courses for the police, covering vehicle identification, plant machinery identification and forensic recovery. Forensic recovery is about "training officers what to do when the Vehicle Identification Number (VIN) is ground off and restamped with a false VIN – it's a technique to recover the original numbers but it has to be done in a particular way to be accepted evidentially in court," explains Nick.
Since 2008, Nick has also been running Interpol courses training police in America, Argentina, Australia, and South Africa specifically in construction plant and agriculture equipment identification. The Business interviewed Vince and Nick in the week that seven men were convicted and sentenced to 22 years in jail at Preston Crown Court for their role in a £1 million stolen construction plant machinery conspiracy. Nick and Vince played a part in their conviction as they were called to be expert witnesses whilst working with their previous employer. Nick, Construction and Agriculture Police Liaison at VIN CHIP™ said: "This was a long and protracted enquiry by Lancashire Police. I was pleased to play a part as an expert witness in the prosecution's case, involving the theft of construction plant equipment, stolen from innocent victims. This helped achieve an excellent result – putting some of the most persistent construction plant thieves, behind bars with sentences of 8.5 years for the main offenders, clearly sending out a message to those who embark in organised crime in the UK."
Nick's involvement meant completing the examination of machines in Australia, Sweden and Finland as well as the UK.
Clive Harris, Head of Development at VIN CHIP™ says: "VIN CHIP™ has a solid foundation in the caravan and motorhome market for vehicle theft prevention and identification. With market leading technology which is adaptable for new markets and with new sector experts on board, we will be moving into different markets to add security and protection through our VIN CHIP™ propositions, whilst assisting police to detect and recover stolen machinery. Gathering evidence for potential prosecutions is all part of that process."
For NCC members who have been a victim of a serious theft of a valuable business asset, the VIN CHIP™ team are available to help complement any police investigation and assist the criminal investigation in helping recover the items concerned and bring offenders to justice.
Contact the team at: info@vinchip.co.uk