Our friends, electric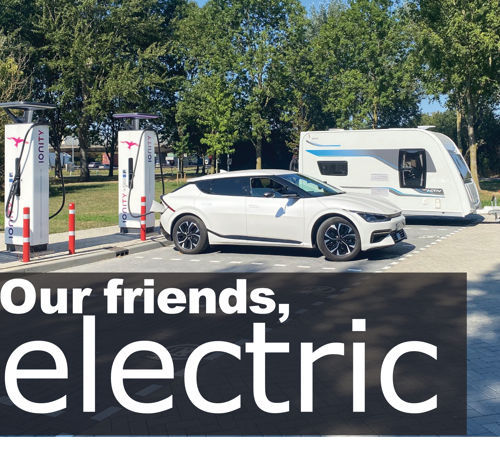 The number of electric vehicles (EVs) registered in the UK is increasing each year, as the number of petrol and diesel cars slowly dwindles. What does a park operator need to do to meet the needs of the electric car tourer? Is financial assistance available? Andrew Ditton, leisure vehicle journalist and electric touring pioneer, talks about maintaining a competitive edge without breaking the bank.
Love them or loathe them, the number of electric vehicles on our roads is increasing every single day. SMMT reports battery electric vehicle (BEV) sales were up 40% in 2022.
It is now possible to buy an electric car that can tow a family caravan for under £50k. Aside from all the well-documented facts about environmental benefits and lower running costs, an increasing number of leisure vehicle owners are coming around to the simple fact that EVs can make outstanding towcars.
Phenomenal stability, higher kerbweights, and instant torque make towing a caravan simple, fun, and stressless. Meanwhile, electric camper vans and electric van conversions are entering the market.
So far so good, but the biggest challenge facing any EV tourer is charging en route, especially when towing a caravan. This is the area where park operators can attract new business by simply offering what the electric tourer needs — and there may be financial help available (see page 5).
All charging is not equal
When dealing with fossil fuels, the choice is easy: petrol or diesel. If only it were that simple when providing power for EVs.
For starters, the size of the battery — the amount of power that an EV can store — varies from vehicle to vehicle. Looking at the most popular touring EVs (the Skoda Enyaq, Kia EV6, and Ford Transit), this is about 75kW/h. The rate and speed of charge also vary from vehicle to vehicle.
Generally, there are four speeds:
Slow: Up to 3 kW AC, e.g., from a domestic 13 amp socket. For safety reasons and to prevent overheating, an EV's charging controller will limit the draw to 2.2 kW.
Fast: Up to 22 kW AC, but normally 7.2 kW (32 amps), e.g., from a home or light commercial EV charging point. Very few EVs can draw 22 kW AC, most will only be able to draw a maximum of 11 kW AC.
Rapid: About 50 kW DC with a three-phase 63A supply, e.g., from a heavy commercial EV charging point.
Ultra-rapid: 100-350kW DC, currently the domain of specialist charging providers on major trunk routes, and can only be optimised by the latest high-spec EVs.
An EV's battery should normally only be charged to around 80%. A 100% charge is only desirable directly before a long journey and ideally drawn from a slower AC charger.
 If an EV with a 75kW/h battery arrives at your site with 10% battery left, it will take this long for the customer to charge their car:
Slow: (plugged in to the caravan drawing 2.2 kW AC): 31 hours to 100%
Fast: (7.2 kW 32 amp AC socket): 9 hours 20 minutes to 100%
Rapid: (43 kW 3 phase 63 amp DC socket): 1 hour 10 minutes to 80%
What should I do?
With increasing sales of EVs, it's not so much a question of if you install EV charge points, but more a question of how soon you get them installed.
Low cost — low return
Install nothing, but allow EVs to plug into the socket in the caravan and draw 10 amps. This might involve investing in metered bollards or charging a flat fee to cover the cost of additional electricity consumed. If your core business is longer stays, or you have a two-night minimum stay, this option might work if the pricing is fair and you are providing 16 amp hook-ups. However, it's still worth looking into providing EV charge points if your park supply can handle it.
Low cost – maximum return Install 7.2 kW AC fast chargers. These will allow customers with EVs to charge from 10% to 100% overnight; a game-changer for the EV tourer, a wise investment for all smaller operators given the grants available, and an absolute must for sites that attract one-nighters.
Medium cost – medium return Install a Rapid 43 kW DC Charger in the car park. This is of some use to overnight customers who can spend a hour charging up to 80% then top up overnight from the pitch supply if need be. A rapid charger might also attract day visitors to your business if you offer a facility such as a cafe or leisure centre. If you're on a trunk route and have the space, make it caravan-friendly for passing tourers. With a smart incentive, you might attract some new bookings, too.
Smart locations
Maximise your site supply and your opportunities. If you have 22 kW of supply that you can dedicate to EV charge points, it makes way more sense to install three 7.2 kW chargers than it does just one 22 kW charger. Most cars can only draw 11 kW on AC anyway. One car would block the charger all night, but by smart commissioning and management, you can maximise your return and allow three cars to fully charge overnight plus another six during the day.
Consider too where you're going to put them. Think of the customer. What could be more frustrating to the EV tourer than arriving on site with 10% battery for an overnight stay, only to find that the two 7.2 kW chargers available are already in use for the night?
A smart move would be dedicated EV-friendly pitches, possibly reserved for overnighters if appropriate. Another more flexible option would be to have the charge points in the site car park, but to include the EV parking bay in the site's reservation system. This would allow a customer to book that charge point for the night, and therefore be guaranteed it will be available for their arrival. Longer-stay visitors could book one of the two six-hour daytime slots.
As always, clear communication with your customers about how you manage your EV charge points is essential, and good management will maximise your return and encourage repeat business.
To sum up
My personal experience in trying to use the public charging network with a caravan on the back has been less than positive. Only now in 2023 are we starting to see just one or two trailer-friendly charging points among the 4000 Rapid and Ultra-Rapid charging locations in the UK. I – and many like me – also don't want to have to spend two nights on site on a slow charge if I only need an overnight stay.
The provision of overnight EV charging, together with the opportunity to be able to book it and guarantee it, is going to be absolutely key for an increasing number of customers when selecting their sites over the coming months and years.